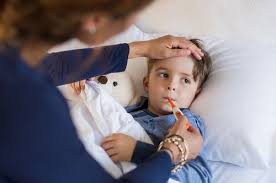 Have you ever been in a situation where your child has a fever that continues to rise? As it rises your child begins to feel worse and worse. The worse they feel, the more worried you become about what's going on and what could happen.
Sure you know that a fever is a sign that the immune system is working and that most times it should be left alone to run its course, but no matter what you know you should do, you still have fear in the back of your mind.
"What if it's meningitis?!" "What if she has a seizure?!" "What if it gets too high and he has brain damage?!"
I want to talk about one of the biggest scares for parents when it comes to childhood fevers. I'll discuss this common "fever myth" as well as the truth behind it, and what you can do to handle a fever in a more natural, safe manner.
The Fear Of Brain Damage From High Fevers
Fear is crippling. It causes us to doubt ourselves, our abilities, and how things naturally work. This is especially true when it comes to fevers–specifically high fevers. Add a small child into the situation and the fear just doubled.
The idea of high fevers causing brain damage is not a new one. It's been widely circulated for years, and I think it's safe to say that most people would consider this a potential effect of a high fever.
But is there any truth to it? Can high fevers lead to brain damage, or is this simply an old myth?
The Solution To Fear of Fevers Is To Understand Them
The first step to overcoming fear of the unknown is to learn more about the unknown. The more you learn about and understand something, the less scary it becomes.
When it comes to understanding fevers and learning whether they actually cause brain damage or not, you first need to know how fevers work in the body.
The Source Of A Fever
The body's immune system is an intricate system of organization, coordination, and communication.
When a pathogen enters the body, an immune response takes place. The pathogen is identified, white blood cells are called in to eliminate the pathogen, and if it can't be eliminated immediately, the body chooses to contain and suppress it to keep it from spreading.
During this internal "battle" not only is the immune system actively fighting the source of the problem, but it's also sending "help" signals to other parts of the body.
Glands are making and sending out antibodies, the spleen is filtering the blood and working with the lymphatic system to help clean wastes, toxins, and dead cells, the bone marrow is being stimulated to make more white blood cells to help fight, hormones are being produced, and so much more. Another thing that sometimes happens when an immune response takes place is the body sends out a signal to the hypothalamus (a region of the brain) telling it to increase the body's temperature and produce a fever.
Why is there a need for a fever during an immune response?
Herbalist Jim McDonald once compared the fever process to having an unwanted guest in your home. He said that if someone were in your home and you wanted them to leave, you'd simply make the environment as uncomfortable for them as possible, and eventually they'd leave. The same is true with a fever. It's the body's way of making the environment as uncomfortable as possible by turning up the thermostat so the unwanted guest, the pathogen, will leave. (McDonald, 2008)
How The Body Tolerates Increased Temperatures
Once the hypothalamus sets the new core body temperature, the body recognizes it's too cold. This results in hormones being released into the blood stream which cause blood vessels to constrict, the heart to pump faster, pores in the skin to close up, and shivering to occur, all in an effort to increase the body's temperature. These responses continue until the new core body temperature is reached. Once it's reached, the body tries to maintain that new set point until the pathogen is overcome.
Once the body has the upper hand and there is no more need for an increased temperature, the hypothalamus receives a signal to decrease the core body temperature back down to what it originally was (98.6° F for most people). The body can now relax and let the built up heat escape. It does this by allowing blood vessels to dilate so heat can rise to the surface, the pores in the skin open up so the body can sweat, the heart begins to slow down, and heat is transferred to cooler objects surrounding the body all in order to cool the body off and get it back down to its regular temperature. (Nave, n.d.)
Brain Damage From Fevers: Separating The Truth From The Myth
Now that you know what is actually going on in the body when a fever is present as well as how the body regulates temperature, it's time to look directly at myths surrounding this common assumption that high fevers can cause brain damage. But before we get down to it, there are a couple other myths we need to address first.
Myth #1 A Fever Is A Sign That Something Is Wrong With The Body
Dr. Bill Sears says that fevers are your body's natural response to infection, and not always a sign of something more serious going on. In fact, when it comes to children's fevers, a high fever (104° F and higher) is not necessarily an emergency as long as it comes down easily. Now of course there are exceptions to every rule. When it comes to children and fevers, the age of your child, their behavior, and the length of time they're been sick will give you clues as to whether a fever warrants a trip to the doctor or not. (Sears, 2013)
Dr. Barton Schmitt says in his widely circulated Fever–Myths Versus Facts article that normal fevers between 100° F and 104° F (37.8°–40° C) are good for sick children because it's a sign that the immune system has been kicked into high gear.
If you do a quick Google search about fevers, you'll find many sources and authorities telling you this exact same thing. This myth is just that, a myth. The simple truth is that a fever is an outward sign that the body is responding to an internal threat.
Myth #2 A Fever Will Continue To Rise Without Treatment
In an old article from The American Journal of the Medical Sciences, Dr. Eugene DuBois explains why temperatures over 106° F are rare. He says that the temperature regulating mechanism found in the hypothalamus must "strongly resist the approach to levels that threaten life." (DuBois, 1949)
Just like I explained above, the body regulates temperature extremely well. It will make physiologic changes to increase the temperature when need be just as it will make changes to decrease body temperature at the right time. Our bodies are designed to heal themselves, to get back to a state of balance. It's very unlikely that the body would go haywire and attack itself or put itself into a dangerous position.
I decided to go one step further and search Google to see if I could find any incidents where a person's temperature had continued to rise higher and higher from an infection without the use of fever reducers. Thankfully I couldn't find anything. The highest temperatures I found were the result of heat stroke, and temperatures from infections topped out at 105° F – 106° F.
Myth #3 High Fevers Cause Brain Damage
In his Fever–Myths Versus Facts article, Dr. Schmitt goes on to say, "Fevers with infections don't cause brain damage. Only temperatures above 108° F (42° C) can cause brain damage. It's very rare for the body temperature to climb this high. It only happens if the air temperature is very high. An example is a child left in a closed car during hot weather."
After finding the truths from the first two myths as well as reading Dr. Schmitts comments and understanding how the body handles increased temperatures, it seems very unlikely that brain damage will occur from the average fever caused by a bacteria or virus; however, there is some truth to this myth, but it doesn't have anything to do with fevers from infections.
The truth behind this myth stems from fevers that are the result of an external heat source. These kinds of fevers are caused by air temperature and are termed "heat stroke". It happens when a person is exposed to hot temperatures for prolonged periods of time such as when working hard with limited brakes or being trapped in a confined space such as a hot car. These situations cause the body temperature to rise. Sure the body does what it can to cool itself off, but since the body isn't the source of the fever, it can only do so much in response to the temperature change. (Mayo Clinic, 2014)
The point is this: high fevers can cause brain damage, but not a fever that starts from within the body as is the case with fevers from illnesses.
When Is A Fever An Emergency?
No matter what we now know about how fevers work in the body and some of the myths related to them, there will always be that part of us that wonders when the situation is out of our control and when extra help needs to be brought in. When does a fever cross the line from "average fever" into "emergency situation".
Adam Pallant, director of the Brown Medical School pediatric residency program at Hasbro Children's Hospital in Providence, Rhode Island claims that children can safely tolerate fevers as high as 106° F. Now just because they can tolerate a fever that high doesn't mean that you shouldn't step in and take some action to soothe and comfort your child in that situation. There are many natural ways to reduce fevers to a more comfortable level without using medications that can be hard on the immune system and body. (Lamb, 2005)
If your child has a high fever, but is responding coherently, eating and drinking, going to the bathroom regularly, and showing no signs of a worsening condition, experts recommend letting fevers do their thing.
However, there are situations that need medical attention. For starters, an infant younger than 4 months old should not have a fever higher than 100.4° F. If they do, you should call their doctor and have them seen.
When it comes to older babies and children, the best way to know if you need some extra help is by watching how your child behaves when they're sick. If they're overly sleepy, not responding to you as they normally would, not talking or walking, unconsolable, their skin color is different than normal, they aren't eating or drinking, they haven't urinated in the past 8 hours or have no tears when they cry, have a medical condition such as sickle cell anemia, heart problems, diabetes, or cystic fibrosis, if their fever doesn't come down with fever reducing methods, or if their illness lasts more than 4-5 days with a fever present–these are situations that should be seen by a medical doctor to rule out anything more serious going on in the body. (Kaneshiro, 2013)
Rest Easy Mama
In conclusion, it's easy to doubt yourself and your abilities when your child has a fever, especially a high fever, but the more you know about fevers and how they work in the body, the more confident you'll be at treating them naturally.
Author: Meagan Visser
Website: http://www.growingupherbal.com
Meagan Visser is a Registered Nurse and herbalist who blogs about raising children naturally at GrowingUpHerbal.com. She is the author of the e-book, Treating Fevers Naturally: A Parent's Guide To Keeping Their Cool While Managing Fevers In Children Naturally as well as her newest e-book, Herbal Remedy Recipes: A Cheat Sheet For 10 Of The Most Common Childhood Ailments, a free gift to her Letters To Natural Mamas subscribers.