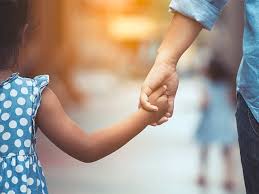 In the nine months I was pregnant with my son and in the first months of his life, no one mentioned anything about how to approach situations where my toddler doesn't want to hug Aunt Sarah or Grandpa or their second cousin. I guess it's one of those things that get pushed aside until they get older and then you're presented with this situation and you're like, "Oh, okay, what do I do now?"
For me the conclusion came fairly easy, at least in theory. It's his body so he ultimately decides. But, of course, it's a little trickier than that in practice. We live 600 miles from family, he is the first grandchild and really the sweetest boy ever. I can see why they want to cuddle and kiss him all the time, because I do too! But when he got to the age where he could make his own decision, I had to come up with a solution. I wanted to remember how I felt as a child as I also encountered these situations. I grew up in a hostile and verbally abusive home. Therefore, I always hugged whichever relative or family friend requested this of me, otherwise I would get yelled at and punished. Keeping that in mind, I wanted to be sure that my child could make their own rules for their bodies and not feel pressured or scared of any consequences.
While I was reading some blogs online about forced affection, I came across a super informational website called Kidpower. The website focuses on taking charge of safety for both children and adults. Irene van der Zande, the founder and executive director of Kidpower, talks about empowering children through awareness, knowledge and skills. The website offers a plethora of useful information as well as offering classes, memberships, and a resource library. One thing Zande emphasizes is the confusion of boundaries and feelings leading to possible problems throughout a child's life. That is one matter that never occurred to me. If I made my child hug Aunt Sarah, it could lead to other issues such as being a target for bullies or unwanted physical contact or emotional manipulation. That's something I obviously want to avoid!
These days my son freely gives the ones he cares about hugs and kisses, but it's usually when we are saying goodbye he decides he doesn't want to hug, kiss, high-five, blow kisses, etc. That is fine! I will usually ask him first and try to say, "That's okay, you don't have to hug them. Maybe a high-five?" If not, then that's it. I accept his decision and praise him for telling me what he accepts as physical affection. I always let him know mommy is happy with whatever decision he makes.
Our families are very supportive and never take it personally or try to force him to show affection. They know how much he loves them. A forced hug would not be anything but negative, anyway, and make him think he needs to show physical affection to make people happy. I want him to know he has control over his body so as he gets older he develops a strong sense of personal space and boundaries. If you think about it, if we as adults don't want to hug second cousin Ralph, we aren't going to! So why force our children to? We need to encourage our children's natural instincts to be selective with their affections and in control of their own bodies, always.
About the Author
Author: Melinda York